ViaBill A/S
Søndergade 2, 2
8000 Aarhus C
Danmark
+45 88 82 68 26
http://www.viabill.com/
ViaBill is a Danish company that offers a payment solution for small and medium-sized Danish webshops. In fact, Denmark's cheapest payment solution, since there are no transaction fees of any kind.
ViaBill is an online payment solution that is just as simple as a card payment. ViaBill is not intended as a substitute for more traditional card payments, but as a good supplement.
With a ViaBill payment solution for your shop, you give private Danish customers the ability to pay at the pace the customer wants. Even completely free from rates and charges. The customer is basically free from rates and charges for 24 months. The customer is free to pay off the amount at any time within the 24 months.
If the customer does not meet a payment date, then the customer will be registered to a payment service. The payment service costs 39 dkk. per charge. If the customer again wants to pay monthly without the use of the payment service, it will not be a problem.
The webshop claims the payment immediately after the 14 days-return policy is over.
Advantages of ViaBill
There are many advantages when using ViaBill.
Denmark's cheapest payment solution - no transaction fees at all.
No subscription costs.
No binding period.
ViaBill take the risk if the customer does not pay.
It is not necessary with an expensive and elusive merchant agreement with a traditional acquirer.
Quick turn-around-time - From applying for an agreement with ViaBill it only takes a few hours before it can be up and running.
High security for both the store and the end customer.
Partial payment gives orders (upselling).
The more payment methods, the more trading in the webshop.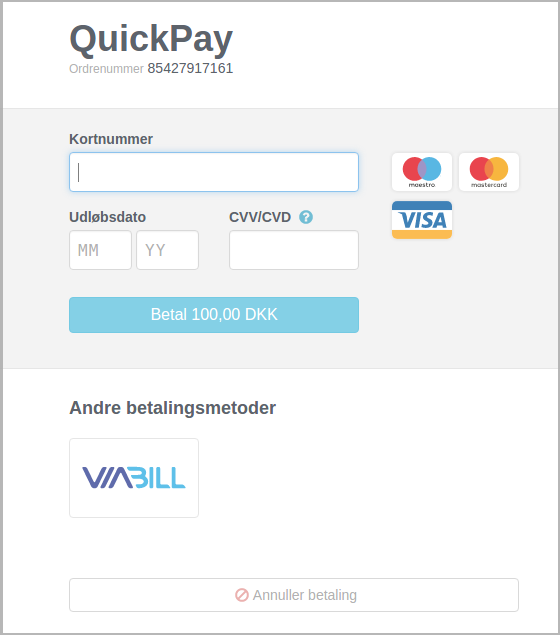 Currency
ViaBill supports DKK, EUR and USD.
Agreement with ViaBill
In order to receive partial payment via Quickpay you must have an agreement with ViaBill.
When you have an agreement with ViaBill, the payment option is automatically presented in the payment window without additional work on your part. All you have to do is enter the API key from ViaBill in Quickpays manager.
It is free of charge to create a ViaBill agreement and there is no ongoing subscription fee for the agreement. The transaction fee is 0.75% (excl. VAT) per transaction. This fee may not be transferred to the customer's order, as this payment solution has to be a product that is free of interest and fees for the end customer.
For more information please click here.